Finding A Great Supplier For Your Website Can Be Easy
Worldwide Brands Review- Is It A Scam Or A Great Deal?
Obtaining quality information when trying to sell products online is one of the most critical functions for a successful online retail or drop shipping business. The ability to see market trends and get useful tips to guide you along the way really helps in the decision-making process.
In this Worldwide brands review for 2019, I will show you that you can have the information you need and take the guesswork out of a search for a good supplier for your products. You may see other Worldwide brands reviews online and that is good, it shows that they have a good product. However, I use my personal experience with them to provide you with a perspective that may prove helpful to you along your journey.
---
Worldwide Brands is a wholesale directory site which contains tools, training and a large directory of suppliers' for those interested in selling products online. They provide light bulk wholesalers as well, that is suppliers' who can sell smaller amounts of items with a minimum purchase of $500 or Less, meaning you can get supplies without having to purchase several hundred items at once.
For the drop shippers, many of the suppliers' allow for even smaller amounts to be sold. The company was launched by successful eBay power seller Chris Malta in 1999 and has grown over time to be the gold standard for wholesale supplier directories. They are recognized by the united states better business bureau with an A+ rating which means they are legit and not a scam.
Worldwide Brands offers a great directory of thousands of suppliers' and over 8 Million products for just about any type of item you can think of and they have a fairly robust market research tool that helps guide you to making an informed decision on what to sell. There are a variety of training tips and videos available at no additional cost that shows step by step how to use the services.
Chris also provides an array of other opportunities in the form of Up-sells that may or may not be something you are interested in.
---
Who Own's It?
Overall Rating: 84
Price: $299 – Lifetime membership
Owners: Chris Malta, Founder, and CEO of Worldwide Brands Inc.
Website: www.worldwidebrands.com/
---
My Information
I have been online doing business in one form or another since 2004
Yes, I am a member of Worldwide brands and I also have an affiliate relationship with them, so yes I can receive a commission from them if my work results in a sale at no additional cost to you.
However, so is everybody else. Sites that provide information good or bad about WWB are normally an affiliate for somebody so do not be fooled by folks saying they are not benefiting from the information they provide.
I only recommend products I have personally used or have had some knowledge about. So if I am promoting it, then I trust that it is good. I have used this site several times and what they advertise, they deliver on, so I have no problem promoting for them.
That's what this industry is all about and why you can make a business model from affiliate marketing. I am upfront and honest about what I do and that's why I tell you about my relationship right up front.
That being said, I am in business to help you find what works best for you to start and run your own online business. You can learn to do the same with your own business and truly make a good living online.
I will provide information in this review and you can decide for yourself if it is what you are looking for. I am not trying to scam you, I am providing you with information to use as you see fit. I have personally used the services from Worldwide brands and have a good set of experience to draw from to share with you regarding what they offer.
---
Who is it for?
This is where the rubber meets the road so to speak for Worldwide Brands as it is a great directory with thousands of suppliers and over 8 million products, and a repository for some training options as well as ready-made storefronts and good customer support along with forums for a variety of topics.
Mainly useful for

Drop-shippers

Retail websites

Auction sellers

Affiliates
The search directory is the main tool Worldwide Brands has to offer, in addition to a few other options like the "market research tool" both can provide very valuable information for you when deciding what to market or sell.
I use the directory search for many types of items, but I mainly used just the directory and some marketing research tools which I found to be guides which do provide great market information as well as price points on auction sites and Amazon.
As a member, you have lifetime access to the services which can be good or bad depending on how you look at it. You will be subjected to an array of up-sells pushed by Chris Malta, some of which can be valuable while others are no more than a ploy for more money.
Chris is a proven success as an online businessman and he does have some great advice on how to make a business work. However, it is NOT the only way to succeed online, so be aware of that before diving into it thinking you need that information to make it all work. You may even find Chris Malta Reviews online and that is because he has been in business for quite a while with proven success.
There are plenty of Free resources to use in the form of email and video training, so it is not a big deal if you stay focused on what you need by using the primary tools and some side training I would say you could be just fine as a newbie into selling online and still succeed with Worldwide Brands as you can just ignore the annoying up-sells and get set up with a supplier and do business just fine.
The cost to be a member is $299 lifetime. The key word is "Lifetime" Just to put this in perspective a bit. I joined in 2005 and paid whatever the fee was back then I believe it was $199 If I remember right. But my point is I have never paid an additional dime to WWB and still have full use of the website.
I see many reviews mentioning the $299 in the review as a "con" as does mine, and I agree it is steep to swallow in one payment but that's all you ever need and you are done..As opposed to other sites charging monthly fee's that over the same period would be over 3 times the cost.
So when other sites like Salehoo ( another great wholesale site) charge a reasonable $67 a year that it still $871 in membership fee's in the same time frame. To be fair Salehoo used to be $67 lifetime but has since changed. But my point is, that when other sites charge a monthly or yearly fee you will still pay way more than $299 over a period of time while doing business. The one-time fee is nice because you never worry about it again after you do it.
---
The Directory
The Search Directory is great and has many options in many categories to pick from. Back in 2005, I was selling Memory foam and latex foam mattresses and toppers via a supplier I found thru WWB.
The supplier was legit and I did get my products at a rate that allowed me to sell them for a profit. I had several options to use as a supplier before I settled on the one I chose. I found all the suppliers' in the directory as there are several options for most product lines.
The Search Directory is constantly being updated with new suppliers' and updated information. This is the bread and butter of Worldwide Brands business model. The directory is a valuable asset for a new business owner to use to search for a supplier for items they wish to sell online.
Note: the prices you may see for items on a suppliers' website will not be the wholesale prices, you will have different prices when you have an account with a supplier
Worldwide Brands – Here is a walkthrough of the member center, see a sample of the search menu and several additional features in the video below
---
Pros and Cons
There are a few pros and cons for Worldwide Brands. Here is my take
Pro's
Great Search directory of suppliers'( see video above)

Good supplier detail provided in the directory to allow for contacts and research of supplier

Customer service is solid

Support Forum and FAQ area can answer many questions

One time fee and it is good for life (I paid mine back in 2004 and I still use the site today at no additional cost)

Several tools and training informational available

They have an affiliate program so you can make money from it
Cons
The Price is Steep $299 one time fee for life.

Up-sells and annoying promotions

Affiliate program some promotional banners are not set up in SSL

Issues with site security- the SSL is not sitewide as a few pages come up as not secure, which usually means outdated information.- (Some have recently been fixed)

No Free Trial Option
---
How You Benefit
You benefit from the directory search and having a huge list of potential suppliers' at your fingertips. You can find many of these suppliers' by searching on google but not to the extent that they are listed in this directory and not without a great deal of screening and weeding out the scammers.
So you save a great deal of time and effort by using the directory. That is worth something in my opinion. An example of how this can work?
I used this directory to find a solid supplier for memory foam and latex foam mattresses and toppers back when I set up my drop shipping website in 2004 and I was able to use the directory to make contact and set up a relationship with my supplier who helped my drop shipping business by providing me a low cost for the product that I could then sell at a profit.
The way it worked for me was to sell in volume and make less per item since I was competing with eBay power sellers and other established websites. I lowered the cost and made just a small profit from each sale and made it work.
The point is, you can do the same thing by finding a supplier for a product you are wanting to sell and then you are on your way. You do not have to spend hrs of research on google weeding out the information that is not helpful. I am in no way saying you will have the same results as I did, I am saying you have a good resource to help you succeed.
Many people do very well selling from WWB directory suppliers. Making use of the market research tool is very helpful, you can find out what the hot items are and how they are priced on eBay or Amazon as an example.
You use this information to help decide what supplier to use for your products which in turn can benefit both you and your supplier. There is also a great community forum for members to help others, you can reference or take part in anytime
---
Costs
$299 Lifetime Membership- Full access to the system for life

Additional offers for products and services at various prices are available but not required. (Up-sells) –Mostly personal coaching options from Chris Malta
---
Final Thoughts
First of all, this is no Scam. Worldwide Brands has been around since 1999 and are recognized by the better business bureau with an A+ rating, as well as a few other verifiable sources. So no worries on scamming. This is a legitimate way to find real suppliers' for your business.
There are however some things that have a tendency to be annoying, with Chris Malta being the CEO he provides many up-sell opportunities to share his experience as an eBay power seller, Worldwide brands is a great spot for finding a supplier, if you can ignore the up-sells you can do just fine or at least you can decide if what they are offering is something you are interested in, they do have some techniques and information that can be helpful if you choose to participate in them.
There are a few good tools to use as well that can help provide information on market trends if the intent is to use the directory to find a supplier for drop shipping or selling on eBay or a retail website, then this is a great place to go. 
I will say that it is in no way a Scam and in fact, it is a great Deal if you consider that you have access to a huge directory of suppliers and a one time fee that's good forever.
I did it and it worked fine, I just ignored the up-sells. Using the directory works but you have to have an idea of what you want to sell so you can make contact with a supplier and they will want to check you out as well on your website to see if you are a good fit for them.
You have the option to save a supplier and come back to it later as you do more research before you decide who to go with.
You can refer to my post about What Is The Best Online Business to start to get more ideas if you are not sure about retail or drop shipping
The stuff Chris Malta is selling has value to some people and may be of use to you as the information is helpful and he has proven to be a success.
Me? I just get annoyed when companies do not tell you everything your getting into right up front and then they harass you for more money, in my opinion, that is the lazy man's marketing strategy since you cannot stand by what you have to offer enough to trust that people will buy it naturally.
You wait until they have already paid for something and then you try to suck them dry for more. It is has been proven as an effective form of marketing that is used all over the net.
I just do not like it my self nor do I use it. This situation is different from most as the up-sells are not required for your success, unlike other programs that charge you over and over giving you bits and pieces along the way.
You can do just fine without additional requirements other than a website and adding great content, but that is a different post. Now that, my rant is over. Overall this is a great place to get light-bulk wholesale suppliers' that you can use to grow your business.
You can get started right away and get your relationship set up with a supplier very quickly, most are totally free to sign up for an account with a supplier
Need to know how to find products to sell? See this video for an example
Verdict? Legit
Score = 84
Success Probability 83 %
Do I recommend? Yes
Scam? No
Are You ready to give it a shot? You can get started by selecting the image below. If Not come back anytime when you feel like giving it a go. Or comment on this article and we can talk about your questions
What are you interested in selling? do you have a website already? let me know in the comments so others can learn from you as well.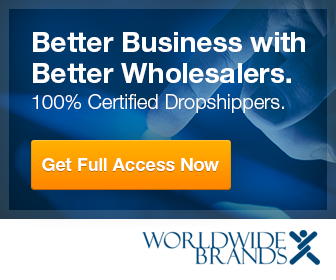 Thank you for your time
Take Care